URGENT: If You Have More than $50,000 in Your Bank Account… Your Money Could Be At Risk With Biden's New Plan! Take Action BEFORE November 2nd

This terrifying plan called "American Families Plan" will allow the IRS to snoop on your bank accounts.

Imagine your bank account being watched by the IRS. Every transaction, every dollar in and every dollar out! Terrifying right!

Well listen up, on November 2nd, the Fed is scheduled to have an important meeting and may make an announcement that day could have a dramatic impact on your bank account.

If they announce MORE out-of-control money printing, as we fully expect them to, it could eat away at the value of every dollar in your account.

And that's why it's more important than ever that you preserve your wealth and protect your privacy AHEAD of this November 2nd meeting.
Fill In The Form Below & Get Your FREE 2021 Info Guide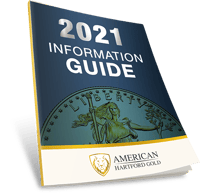 We've Prepared an Exclusive 25-Page Document to Show You

:
The #1 way to protect wealth through gold & silver (and how to get started)
How the Fed recklessly printing money could slash years off your retirement plan
Why Americans are rushing to this safe haven ahead of the November 2nd Fed meeting
"The ONLY company I recommend for your Gold & Silver needs is American Hartford Gold"

- Bill O'Reilly